Ticket: Free visit of Park Sënnesräich with LuxembourgCard
Park Sënnesräich: Hands-on museum of senses and natural sciences At Park Sënnesräich visitors discover their 5 senses – sight, hearing, touch, smell and taste – and natural sciences in a hands-on, playful and informative manner. Park Sënnesräich is a hands-on museum, an exhibition with interactive experiment stations. And - unlike in a conventional museum – Park Sënnesräich is a place where it can be loud, where visitors can touch things and where they not only acquire information passively, but may also actively interact.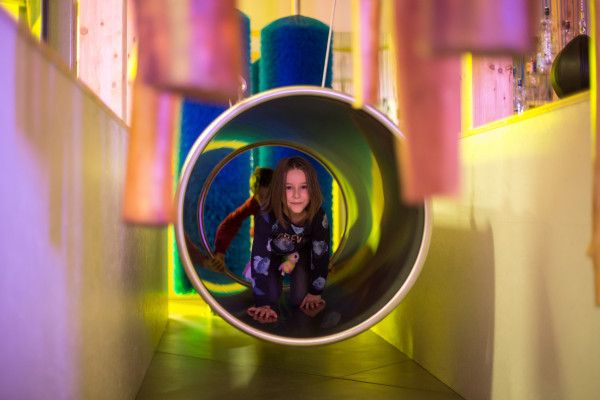 Hands-on museum
Our more than 35 interactive experiment stations in our large exploration space, called the room of the 5 senses, enable visitors to become familiar with human senses and natural sciences.
They can for instance test their scent by smelling something without seeing it, produce bright tones by hopping, jumping or even dancing, experience the mechanical advantage by using the pulley-exhibit and pulling themselves up to the ceiling, grasp the law of conservation of momentum and energy with the Newton pendulum, and even step inside a giant bubble.
Beside its exhibits, SenseSets, 6 walk-in locations for photo shooting, making videos and boomerangs, also await visitors in the room of the 5 senses. Visitors can capture priceless visit-memories in beautiful photos, and even purchase the suitable frame.
Garden of the senses
The outdoor area of Park Sënnesräich, the Garden of the senses, invites visitors to play and stay a while: While the children let off steam in the extensive play area or the multipurpose sports ground, work their way through the giant maze, try out the barefoot walking trail or explore the herb garden, the adults can look forward to relaxing by the banks of the protected pond or make themselves comfortable on Bistro Sënnesräich's terrace, from where they have a direct view of the outdoor area.
AirTramp
The AirTramp, a 10x10 metre air-filled cushion, rounds off what's on offer at Park Sënnesräich.
In addition to the guaranteed fun factor, the AirTramp is an outstanding educational tool for improving abilities such as psychomotor function.
Due to its special features, however, it may only be used under the supervision of a trained assistant. A Park Sënnesräich employee can be provided for this, on request.
Opening hours
During luxemburgish school holidays: Friday, Saturday and Sunday: 10:00-17:00
During luxemburgish school period: Saturday and Sunday: 10:00-17:00
Availabilities
23.09.2023 - 05.11.2023