Water sports material rental at youth hostel Lultzhausen
Youth hostel Lultzhausen is located on the Upper Sûre reservoir lake in the Éislek region. Kayaks, canoes and Stand-up-Paddles are available for rental for guests and members of the youth hostel upon prior reservation. Presale start: from 15 May 2023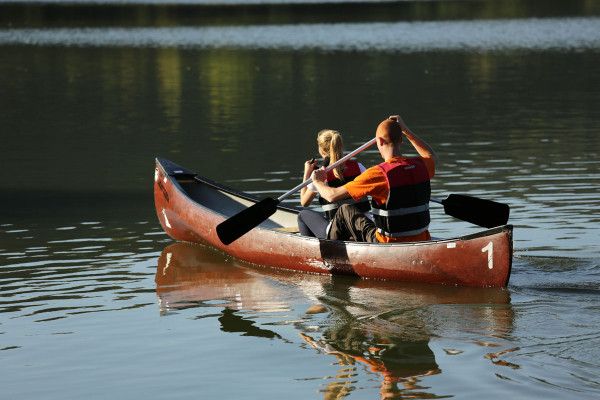 Bathing fun in Éislek! Who needs sand, sea and palm trees when you can have sun, beach and relaxation in the Grand Duchy of Luxembourg? This little paradise with a special holiday feeling is located in Lultzhausen, directly on the shores of the Upper Sûre reservoir lake with a bathing beach right next to the youth hostel and plenty of water sports facilities such as kayaking, canoeing and stand-up-paddling.
Upon prior request, the youth hostel offers half-day or full-day kayak, canoe or stand-up-paddle (SUP) rentals from Wednesday to Sunday from the 1st of July to the 14th of September.
Times:
10:00 a.m. – 1:00 p.m.
2:00 p.m. – 5:00 p.m.
Prices per boat/material:
Canoe: 36 €
Kayak: 21 €
SUP: 21 €
Deposit: 100 € (Compulsory: can be deposited in cash or by credit card)
Non-member prices will be charged when booking online. 3 € per boat will be refunded in cash upon presentation of the Hostelling International youth hostel membership card at check-in. If you are a member of our association, please bring your valid membership card.
Canoe rental:
Children from 5 - 7 years must be accompanied by 2 full-paying adults, kids and young people from 8 - 17 years must be accompanied by at least one full-paying adult.
Per canoe: min. 2, max. 3 persons
Kayak rental:
Children and teenagers from 10 - 17 years must be accompanied by a full-paying adult.
Per kayak: max. 1 person
SUP rental:
Children and teenagers from 10 - 17 years must be accompanied by a full-paying adult.
Per SUP: max. 1 person
Rules:
All participants are required to wear a life jacket (provided by the youth hostel).
Participants must not be under the influence of alcohol and/or drugs.
All participants, both children and teenagers as well as adults, must be able to swim (for at least 15 minutes).
A deposit of 100 € must be paid on site. The deposit will be refunded in full if the boats are returned without damage.
During the time of rental, the client is responsible for the rented equipment. This means that the customer must ensure that he/she carries the equipment to the water and returns it to the youth hostel at the end of the activity.
Private items can be taken onto the water at the customer's own risk and responsibility. However, the youth hostel cannot be held liable for destroyed or lost items.
Inclusive:
Boat and life jacket rental