Nature & Castle Day Tour in Luxembourg
Learn more about the history of Luxembourg, from the Middle Ages to the modern age, aboard our minibus. We will show you the fascinating nature of the Mullerthal, "Luxembourg's Little Switzerland", and take you to the oldest city of Luxembourg.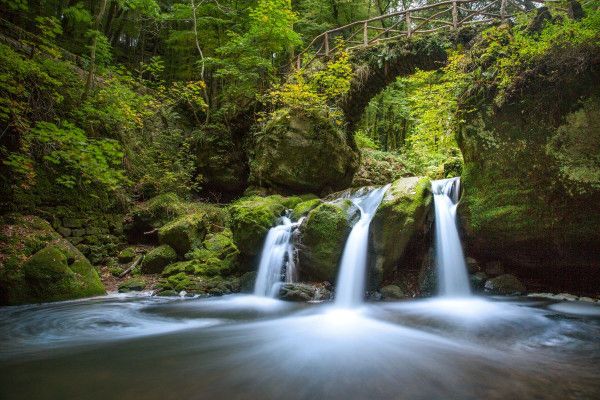 The Nature & Castle is a day tour in which we will introduce you to the nature and history of Luxembourg. In the course of the tour, we will have a quick stop at Beaufort in order for you to take some nice pictures to remember. The duration of the tour is +/- 8 hours, which includes 2.5 hours of free time in Vianden.
Program of the day:
10:00 - 10:45: Müllerthal trail & Schiessentümpel waterfall

The waterfall, known as "Schiessentümpel", with its three water jets on the Black Ernz is one of the most photographed motives of the Mullerthal Region - Luxembourg's Little Switzerland. This is a 45-minute walking tour. Please make sure to comfortable hiking shoes, especially at the Schiessentümpel.
11:00: Beaufort
One stop at Beaufort to take some photos and admire the view. During the Spring and Summer time, you can visit the Beaufort Castle.
12:00 - 14:00: Vianden Castle - an outstanding monument

The small medieval town of Vianden attracts thousands of visitors every year. Particularly worth seeing are the imposing castle that overlooks the town, the town wall with its fortified towers and Luxembourg's only chairlift. During our stop you have 2 hours of free time that you can plan for yourself. We recommend that you bring a snack if you don't want to waste time in a restaurant, otherwise the time might be too short.
15:15 - 16:00: The old town of Echternach

Echternach is the oldest town in Luxembourg and was founded in 698 by the Benedictine monk Willibrord. Visit the most beautiful places and buildings of Echternach, like the Basilica, the abbey and the market.
After Echternach, we will return to the departure point in Luxembourg City.

Inclusive:
8 hour tour by convertible bus
Audio Guide in 3 languages (EN, FR, GE)
Fixed schedule with guided visits to the Schiessentümpel and the town of Echternach (English speaking guide included)
Entry to the castle of Beaufort
Entry to the castle of Vianden
Availabilities
30.03.2023 - 28.12.2024